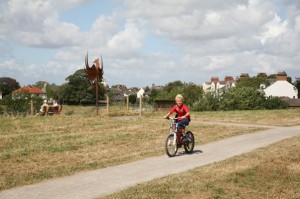 Phoenix Park is a recreational area made from what was previously a derelict landfill site of 7.25 acres.  The park is owned by the Town Council and is leased to Free for All, a registered charity based in Wigton who have brought the area into community use.
ThepPark is well used by the community and is popular with dog walkers.  The opening of the cycle path from West Road makes the park easily accessible from the west, and provides a safe and direct link between communities and local schools in Wigton.
In the last few years the park has seen development with local volunteers creating a Bee Garden, sponsored by Futamura, and various floral beds at the allotments entrance. Futamura also bring memebrs of staff on volunteer days to help with seasonal jobs around the park.