The councillor, staff images, photographs, contents or documents on this website must not be stored, recorded, republished, or otherwise processed without the explicit agreement of Wigton Town Council.
Privacy Policy
Transmitting information over the internet is generally not completely secure, and we can't guarantee the security of personal data.
Any data you transmit over the internet is at your own risk.
There are procedures and security features in place to try and keep your data secure once the Council receives it.
The Council won't share personal information with any other organisations for marketing, market research or commercial purposes, nor will the Council pass on your details to other websites.
Disclosing your information
The Council may pass on your personal information if the Council has a legal obligation to do so. We may share your data with partner organisations where necessary to provide you with the services requested.
This includes exchanging information with other government departments for legal reasons.
Your rights
You can find out what information we hold about you, and ask us not to use any of the information we collect.
Contact us:
Town Clerk – Mrs Emma Ireton
Assistant Town Clerk – Sophie Cooper

 Address: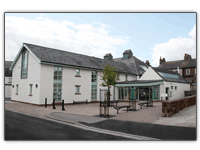 Community Office
Market Hall
Church Street
Wigton
Cumbria
CA7 9AA

Telephone: 016973 44106

Email: clerk@wigtontowncouncil.org.uk
info@wigtontowncouncil.org.uk
Opening Hours:
Monday to Friday 9:00am – 16:30