The Millennium Walk was created by the Town Council in the year 2000 as a long term legacy to celebrate the new Millennium and was established in collaboration with Solway Rural Initiatives who worked alongside a Community Payback group. The bridge across the beck, Speet Gill, was provided by UCB, now Innovia Films, for which the town is most grateful.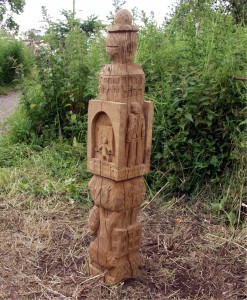 The Millennium Walk begins along Proctors Row to the south side of St Mary's Church and proceeds down Laurel Terrace towards the Swimming Baths, built for the town by Edwin Banks. The walk continues over Stoney Banks (footpath) entering the Millennium path at the board, which explains about the area and its inhabitants. Continue eastward along Speet Gill beck (stream) through natural woodland for some three to four hundred metres.
Before you reach the end of the path, which includes two picnic benches, cross the bridge over Speet Gill and follow the path through the pine trees over the hill until it meets Kirkland Lane. You may wish to linger a while on top of the hill and look left towards the town and take in the interesting views. Another explanation board provides a little history about this side of the town. At the end of pine trees, you will join the Kirkland Lane, a public 'Right of Way', which has been used for hundreds of years. You could turn right on Kirkland Lane which continues through open fields ending at Kirkland Hall some 4 or 500 metres further on.
For the circular walk, turn left towards Wigton and about half way down Kirkland Lane, which is lined with old iron railings (sadly past their best), stop where there is a sitting post, look to your left and directly in front of you, in the distance, you will see Highmoor Tower, once, but sadly no longer, the home of the prominent Banks Family. The lane was at one time part of the Highmoor estates. Onwards down the lane and again cross Stoney Banks (you could turn right along Tenters towards Market Hill and the Black-a-Moor pub, once the home of Melvyn Bragg), but entering Little Lane will bring you out at Brookside, again crossing Speet Beck for the third and final time. At the top of the walled Little Lane continue up the hill across Water Street and up Church Lane along the north side of St Mary's Church, on your right you will pass the 'Alms Houses', a row of cottages built in1723. You will complete the Millennium circular walk when you reach the Corn Market at the front of the church. This is an enjoyable and rewarding one and a half hour walk, mostly in countryside.