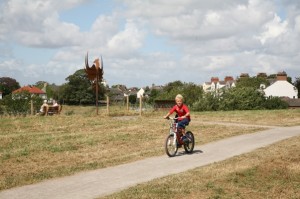 Phoenix Park is a recreational area made from what was previously a derelict landfill site of 7.25 acres.  The Park is owned by the Town Council and is leased to Free for All, a registered charity based in Wigton who have brought the area into community use.
The Park is well used by the community and is popular with Dog Walkers.  The recent opening of the Cycle Path from West Road now makes the park easily accessible from the West, and provides a safe and direct link between communities and local schools in Wigton.
The Town Council are currently designing a Wildflower Garden and considering supplementing the planting of trees and the addition of extra seating areas.  Future plans for the area include a camping area for groups, a small bmx track and a skate park.